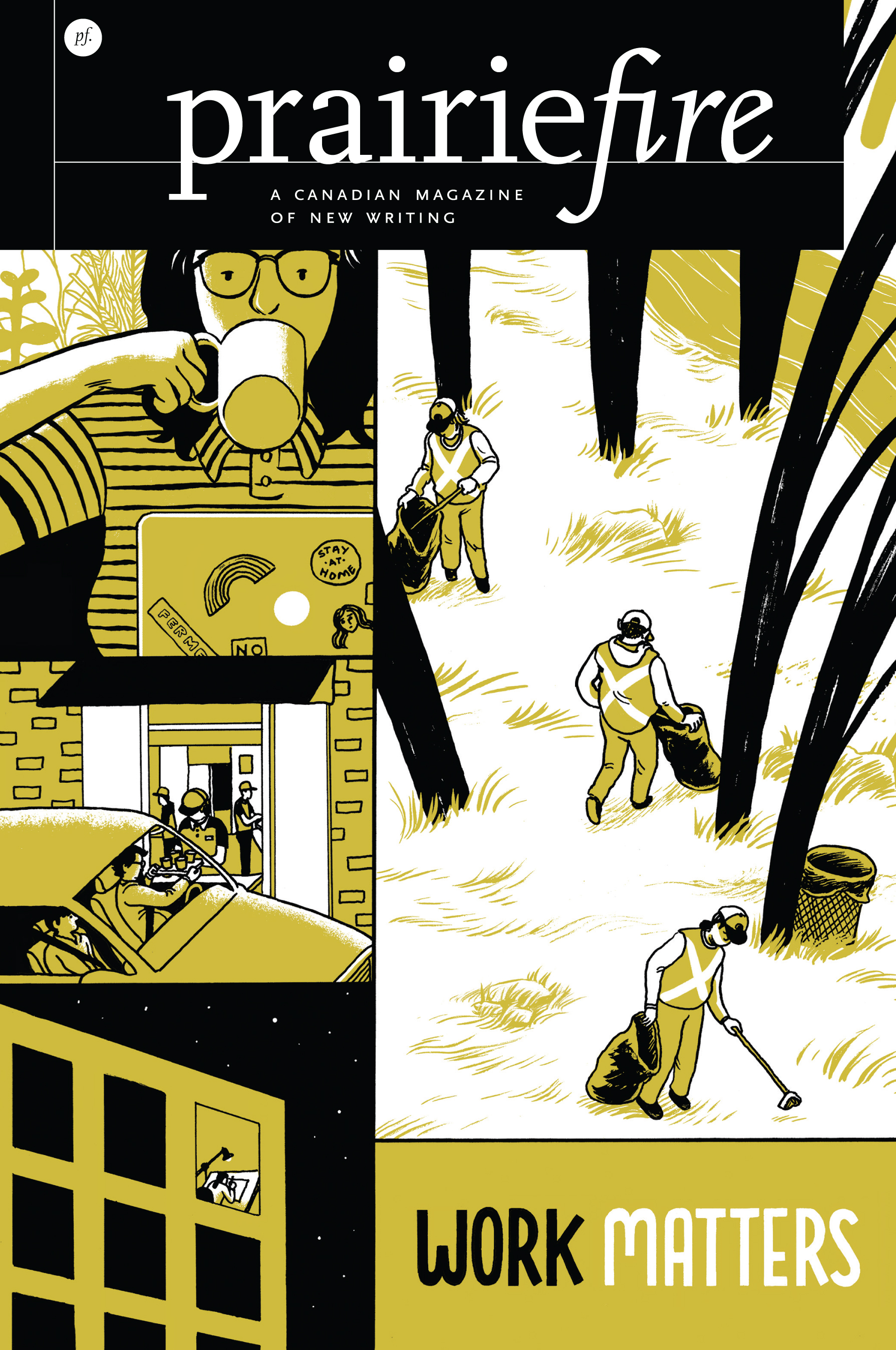 Cover Image: Work Matters by Jonathan Dyck

Spring 2019, Volume 40, No.1
Volume 40, No. 1, Spring 2019
We teamed up with author and Certified Career Development Practitioner Patricia Rawson to bring you a jumbo-sized issue on the ever-changing world of work! How do we find fulfillment through what we do? How do we engage in work that matters to us? To others? To society?
---
Table of Contents
Duncan Mercredi—Three Poems
Rebecca Carlson Molloy—Firstborn Son
Chimwemwe Undi—Three Poems
Anita Lahey—Frostbite
Cornelia Hoogland—Everybody Knows
Becky Blake—The Amazing Flying Velcro Twins
Sarah Yi-Mei Tsiang—Two Poems
Patricia Robertson—The Old Speech
Rob Budde—Two Poems
Krista Eide—Dreamland
Tanis MacDonald—Magnificent
Lauren Carter—Triple Feature
Corina Gugulus—Balthazar
Genni Gunn—Birth Stones
Kirsten Pendreigh—Two Poems
Trisha Cull—Fifteen: a love story
Tiffany Morris —Honeymoon No. 2
Isaac Würmann—Pilgrim
Amanda Merpaw—Miss Mitchell's Comet
Patricia Rawson—Work Matters
Tina Silver—Fortunes with Fries
Spenser Smith—Hundreds of Men: A case study
Sherryl Melnyk—Ball Breaker
Eleonore Schönmaier—Pink
Diana Fitzgerald Bryden—the horse long gone
Kelly S. Thompson—Death Cherry
Jeff Musgrave—The Office of Statistics
Jim Jackson—Companies of One: Our Selves and the Future of Work
Renée Cohen—Soul-Crushing Jobs on the Road to Fulfillment
Chelsea Comeau—The Hanged Man Chosen Upright
Chloe Mayes—Mixing Mud with My Body
Raye Hendrickson—In a Day's Work
Jennie Hunter—Don't Ever Tell Them That
Alan Hill—The Tractor Driver
Tricia Wasney—The Load
Elena Johnson—Ground-truthing
Joelle Kidd—Love Letters Under Glass
Susanne Von Rennenkampff—Folding Laundry
Rhonda Collis—The Keeper
Brad C. Anderson—Sisyphean Gambit
Contributors
NON-FICTION
Renee Cohen
Trisha Cull
Krista Eide
Genni Gunn
Jim Jackson
Anita Lahey
Chloe Mayes
Sherryl Melnyk
Patricia Rawson
Kelly S Thompson
Tricia Wasney
Isaac Würmann
FICTION
Brad C. Anderson
Becky Blake
Lauren Carter
Rhonda Collis
Diana Fitzgerald Bryden
Jennie Hunter
Joelle Kidd
Rebecca Carlson Molloy
Patricia Robertson
Tina Silver
POETRY
Rob Budde
Chelsea Comeau
Corina Gugulus
Raye Hendrickson
Alan Hill
Cornelia Hoogland
Elena Johnson
Tanis MacDonald
Duncan Mercredi
Amanda Merpaw
Tiffany Morris
Jeff Musgrave
Kirsten Pendreigh
Susanne von Rennenkampff
Spenser Smith
Elenore Schonmaier
Sarah Yi-Mei Tsiang
Chimwemwe Undi
---
Fiction Excerpt
The Keeper
BY Rhonda Collis
When my mother called, I was stunned to hear the words, threatening arrest, in the same sentence as my sister's name. Then again, why was I surprised? Jess was the kind of person who kicked up a vortex of chaos around her wherever she went. Maybe on some level, she recognized this and felt it necessary that she live in isolation.
During our conversation, Mom's voice had come to me as if through a blow horn across a windy ocean, tight and shrill with anxiety. She told me they hadn't heard from Jess for weeks now, and that there was a news story about her being some crazed illegal squatter and they were beside themselves with worry.
---
Poetry Excerpt
Rising Signs
BY Chimwemwe Undi
I move towards renaming this
the other season. Let's call this light our holy crop
sprung up after the fallow stretch, after we withstood
and wandered, bitched, rapped against the
sharp part of the curb, dislodged salt and those reluctant months,
the year we thought we would not see the other end of,
so, our reward: this bright harvest, lumen echoing the snow.
---
Non-Fiction Excerpt
Ball Breaker
BY Sherryl Melnyk
I parked my car a few houses away and took a moment to gather my courage. I reviewed my service mantra: in and out, quick and sweet. Serving court documents was a dangerous part of my job. Debtors weren't joyful about getting sued. Their reactions ranged from tearful acceptance to enraged fury. I'd never been punched, but there could be a first time. I was a woman alone at night and at least two men were in the house. I was going in anyway. I had Nathaniel on the line and I wasn't passing up my chance to nail him.
Show no fear, I said to myself. I knocked and Nathaniel's buddy answered wearing ripped sweatpants. "Hey?" he said.
"Hi," I said with a sweet smile. I was dressed to go dancing. My hair was puffed into hair sprayed perfection. My black skirt was short enough to show some thigh above my black boots.
"Come on in," he said with a grin.
"That's okay. I'm here to see Nathaniel," I said.
His eyebrows arched. "Really?" he said. "For sure."
Nathaniel peaked around the corner of the kitchen.
I smiled at him as he came to the door. "Nathaniel Boothman?"
"You bet." He smirked at his buddy.
I dropped the envelope in front of Nathaniel and spun around on my heels. Gotcha, asshole...