Winter 2017
Volume 37, No.4

VOLUME 37, NO.4, WINTER 2016/2017
New works from Méira Cook, John O'Neill, Di Brandt & more! Also a tribute to Turnstone Press's 40th birthday with pieces by Dennis Cooley, Patrick Friesen, Sylvia Legris, Brenda Sciberras a...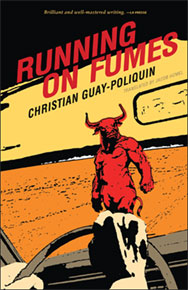 Running on Fumes by Christian Guay-Poliquin
Reviewer: Ronald Charles Epstein
A doctoral student named Christian Guay-Poliquin is now emerging. …
Announcement: The Winners of the 2016 Prairie Fire & McNally Robinson Bookseller Writing Contests

January 17, 2017

We have our winners! Congratulations to this year's winning writers and thank you to everyone who entered.

For a complete list of this year's winners, click here.

Some big changes at PF!

December 16, 2016

The upcoming "Turnstone at 40" winter issue is off to the printer and the contest entries have been processed and bundled for the judges! It's been a busy month! So busy, that we haven't had much time to do a proper post about some changes to our editing team…

Winnipeg-based Indigenous Writers—submit your work to Prairie Fire's New Special Issue

December 6, 2016

Located in the middle of Turtle Island, Winnipeg has always been a place where Indigenous people have gathered to share their stories. Prairie Fire wants to celebrate this tradition with a new special issue that showcases the strength and beauty of Indigenous voices in win-nipi, the place of muddy water. Read More…

It's the Final Countdown! Two Weeks Until the Contest Deadline!

November 16, 2016

We're in the home stretch, folks! Have you submitted your contest entry? You have until 11:59PM on November 30th to have your entry postmarked and in the mail. Read More…

Signed, Sealed, Delivered! The Fall Issue is Out!

November 15, 2016

The fall issue is finally out! Our apologies on the delay, illness at the office and a backlog at the printer resulted in us having the snazzy new issue come out a few weeks late.

We hope you like it and enjoy the theme What's Lost Remains: Discovery in a Time of Darkness.

Banff Centre Bliss Carman Award Winner: Jason Stefanik

September 30, 2016

This year's Poetry Bash! at the Winnipeg International Writers Festival has come and gone and with it, the Bliss Carman Award Read More…

It's Contest Time! Are you ready?

July 28, 2016
In addition to supporting

Prairie Fire

magazine, your donations help us serve the community in other ways...

Read More...

We look forward to receiving and reading your work! For complete submission guidelines...

Read More...

A celebration of the boreal forest through writing, sound, music & photography

Read More...