Shanleigh Klassen and Lulu Akanamoya have completed the Prairie Fire Practicum in Publishing, Leadership and Communication 2013–14. They are pictured here with their thrilled teacher Janine!

Join us for readings by Jonathan Ball, Carly Dow, Melanie Brannagan Frederiksen, Debbie Patterson, Marika Prokosh, David Alexander Robertson, Daria Salamon, Rob Singh (poem read by Kate Grisim), and Jennifer Still, followed by a yummy cake!
Summer 2014
Volume 35, No.2

2013 Writing Contest Winners
This issue features winning entries of the 2013 writing contests and includes judges' notes for each of the three categories....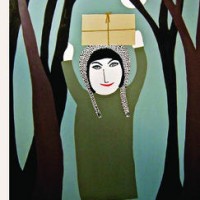 Night-Eater
Reviewer: Andrew Vaisius
What an odd title for a book of poems. I conjure up a beast, or a fantastic creature like the shadow in Robert Munsch's children's story <...
This project is a celebration of the boreal forest through a multidisciplinary approach involving writing, sound, music and photography.

We look forward to receiving and reading your work! For complete submission guidelines...

Read More...

In addition to supporting

Prairie Fire

magazine, your donations help us serve the community in other ways...

Read More...