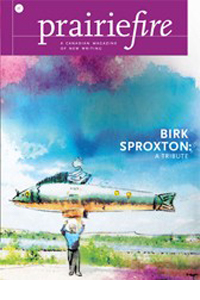 Cover Image: Photo illustration by Tétro Design
Photo illustration by Tétro Design, Inc., from a photo taken in Flin Flon, Manitoba in 2000, supplied by Lorraine Sproxton.
Fall 2013, Volume 34, No.3
Birk Sproxton: A Tribute
A special section of this issue, edited by Christian Riegel, features writing by, about, and in tribute to writer & editor Birk Sproxton.
---
Table of Contents
Christian Riegel Birk Sproxton: Life, Writing and Remembrance
Dennis Cooley benchmark
Birk Sproxton The Editor's Hand
Birk Sproxton The Burning Bush
Birk Sproxton J.B. Tyrrell, A Love Story, with Sauce
Birk Sproxton, A Door Is Ajar
Birk Sproxton, Woman with Lasso
Joan Crate Devlez Wurkshoppen
Alison Calder Rereading Trace, 25 Years Later
Sue Matheson Collage, Hypertextuality and Self-Actualization—Northern Hermeneutics in Birk Sproxton's Headframe: and Headframe: 2
Kimmy Beach Antelope
* * *
Chandra Mayor Two Poems
John O'Neill The Book about the Bear
Joshua Whitehead from Crazed Beauty (His Town Had Lions)
Graham Arnold Boxes
Deirdre Laidlaw Mother House
Contributors
NON-FICTION
Alison Calder
Sue Matheson
Christian Riegel
Birk Sproxton
FICTION
Graham Arnold
Joan Crate
John O'Neill
POETRY
Kimmy Beach
Dennis Cooley
Deirdre Laidlaw
Chandra Mayor
Joshua Whitehead
---
Fiction Excerpt
Boxes
BY Graham Arnold
I'm standing in front of Lawson convenience store at three in the morning eating pre-shelled eggs and watching the Russian kick her bicycle.
"Fack you," she says. To the bike, not me.
The back tire is bent like a folded pita. She spits on it. It's dark but you can see the spit project from her mouth. Not the kind that sprays broken and sloppy from your lips, but a slider with some body to it.
---
Poetry Excerpt
The Homeless Poet Watches Spring Creatures
BY Chandra Mayor
Perhaps the end is near after
all. Sidewalk snow begins the slow
exhalation into water, and river
ice spreads itself thin, the arms
and legs of current lifting
up and kicking against the cracks.
---
Non-Fiction Excerpt
J.B. Tyrrell, A Love Story, with Sauce
BY Birk Sproxton
In the great museum of Drumheller, the Royal Tyrrell Museum of Paleontology, you will find a life-sized mask of Joseph Burr Tyrrell gracing a wall near the gift shop. The mask leans forward into the room, as if Tyrrell wanted to hear the bustle and gossip of happy visitors gabbling around the displays in his museum. His steel-rimmed glasses give him a professorial look, but his face is nonetheless friendly. When the light glints on his forehead, he seems a bit quizzical too, as if the bustle were somehow a mistake.